Seems easy enough to prepare.
Like all nuts, cashew nuts are no exception when it comes as an excellent source of protein and fiber. They are good for the heart as cashew nuts are rich in mono-unsaturated fat as well as a good source of potassium, B vitamins and folate.
Phosphorous, copper, magnesium and selenium are also found in them. Just like peanuts, cashew nuts are usually salted and may contribute to increase blood pressure due to the added sodium. So always buy unsalted plain roasted cashew nuts.
Diced Chicken with Cashew Nuts Recipe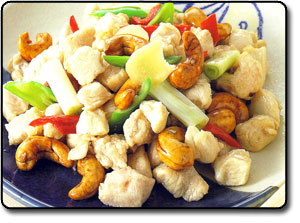 This is a great and healthy Chinese dish and the cashew nuts must only be added at the last stage of cooking to ensure that the nuts stay crunchy. A few quick stirs will do. Before cooking, roast the nuts in the oven to remove excess moisture.
Ingredients:
2 chilies
2 stalks spring onions (scallions)
1/2 green pepper (capsicum)
200 g Chicken breast meat
3 slices ginger
100 g Roasted cashew nuts (unsalted)
Seasoning A
1 tablespoon cornstarch
1 tablespoon dark soy sauce
Seasoning B
1/2 teaspoon salt
1 teaspoon rice wine
1 teaspoon sugar
Method:
Slice the chilies. Rinse the spring onions (scallions), chop half and cut the other into sections. Slice the green pepper. Rinse and dice the chicken breast meat. Mix with seasoning A and marinate for 10 minutes.
Heat 2 tablespoons oil in a pan and stir-fry the ginger slices, chopped spring onion and chilies. Add the chicken and seasoning B, and cook until half-done. Then add the green pepper and toss well, add the cashew nuts and stir evenly. Serve while hot.