Another snack menu from Asian Online recipes. Maybe, I can make these for any parties or gatherings, simple yet appetizing.
Ingredients: (Serves 4)
225 g/8 oz peeled raw shrimp (prawns)
15 ml/1 tablespoon sherry
15 ml/1 tablespoon soy sauce
30 ml/2 tablespoons cornflour (cornstarch)
2 egg whites
4 slices white bread
115 g/4 oz/0.5 cup sesame seeds
Oil, for deep-frying
Sweet Thai chili sauce, to serve
Method: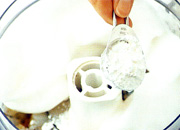 1. Process the shrimp, sherry, soy sauce and cornflour in a food processor to make a shrimp paste. In a grease-free bowl, whisk the egg whites until stiff. Fold them into the shrimp and cornflour mixture.
2. Cut each slice of bread into four triangular quarters. Spread out the sesame seeds on a large plate. Spread the shrimp paste over one side of each bread triangle, then press the coated sides into the sesame seeds so that they stick and cover the shrimp paste.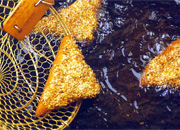 3. Heat the oil in a wok or deep-fryer, to 190oC/375oF or until a cube of bread, added to the oil, browns in about 45 seconds. Add the toasts, a few at a time, shrimp side down, and deep-fry for 2-3 minutes, then turn and fry on the other side until golden.
4. Drain on kitchen paper and serve hot with sweet chili sauce.